In addition to articles available in the Knowledge Base, we also have a Community feature that provides our customers a forum for discussion on a variety of topics.
The Community link is available in the top righthand corner or on the main Kuali Support page where you can join the conversation. Not only can you post on topics with questions or engage the community on feedback, but you can also Follow any of the Topics or Posts so you are automatically notified when further activity occurs. Users can also comment on posts and vote to reflect their agreement on posts or comments.
Note: In order to view Topics and participate in the Community feature users from member schools will need an
account
in Kuali Support Portal.
Topics
Within the Community's main page you will see the available topics and the recent activity. The topics will also display the number of posts and followers for each. In the Community Topics dropdown you can also toggle between viewing topics or viewing all posts.
Topics are forums created by Kuali for users to post in and discuss among other users. You can follow or unfollow a topic so any post or activity will send a notification to you. The topics will continue to expand as we grow into the community feature. We can also tag Topics with statuses (i.e. Planned, Answered, Not Planned, etc.) so users can follow the progress of certain topics if applicable.

Posts
To engage in the community, you can post on one of the available topics. To submit a post, click the New Post button which will take you to the entry form. Please use the following guidelines when making posts:
Title

A summary of the issue or question. Be sure to indicate the school you are with in the title.

Details

Use this field to provide a full description of the issue or question. The more information you can provide, the easier it will be for other users to respond to you.

Topic

Use the drop-down to select the most appropriate option.
Once your details have been entered, click Submit! Then relax and wait for comments from other community members. As the author of the post, you will automatically follow the post so you will be notified of any further activity.
Votes and Comments
Users can provide their feedback on a thread via the comment option. The post will display all user comments so you can see the history of the conversation. You can also vote on a given post or comment. The 'follow' option is also available at the post level in the top righthand corner so you will be notified of any activity.
My Activity
Selecting the drop-down by your username will provide the option to review your activity within the community.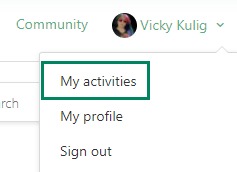 Here you can keep track of all your submitted ticket requests, contributions to the community, and see the items you are following.