You can modify the settings of your user account within the User Settings. To access the User Settings, click on your username in the upper right corner of the page.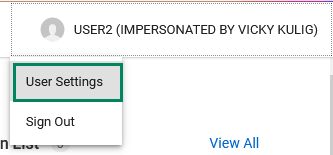 When you've selected the User Settings option, you'll be able to see your user account and all associated attributes:
First name
Last name
Display name
Username
Password
Email
Action list notification settings
Role (e.g., user, admin, or CM Admin)
Primary group
Approved status
If you have an admin level account, you will be able to edit all of the attributes associated with your account.
If your account is designated as a CM Admin or a user, you will be able to edit the following attributes:
First Name
Last Name
Display Name
Password
Email
Action List Notifications
You'll need to reach out to your system administrator to make changes to any of the other attributes on your account.
You can learn more about the options available by viewing the article for Updating your User Settings.